When submitting an item, please upload a thumbnail that can introduce the item.
Thumbnail serves to introduce the item I made to other users. It allows ZEPETO users to judge the attractiveness of the item before purchasing it. Therefore, if the thumbnail is unrepresentative of the item, is unrelated, or is difficult to recognize, it may be rejected during the screening process.
For item thumbnails, it is recommended to use the automatically generated thumbnail on the 'Details' screen when uploading items.
▼ Automatic Thumbnail Generation Screen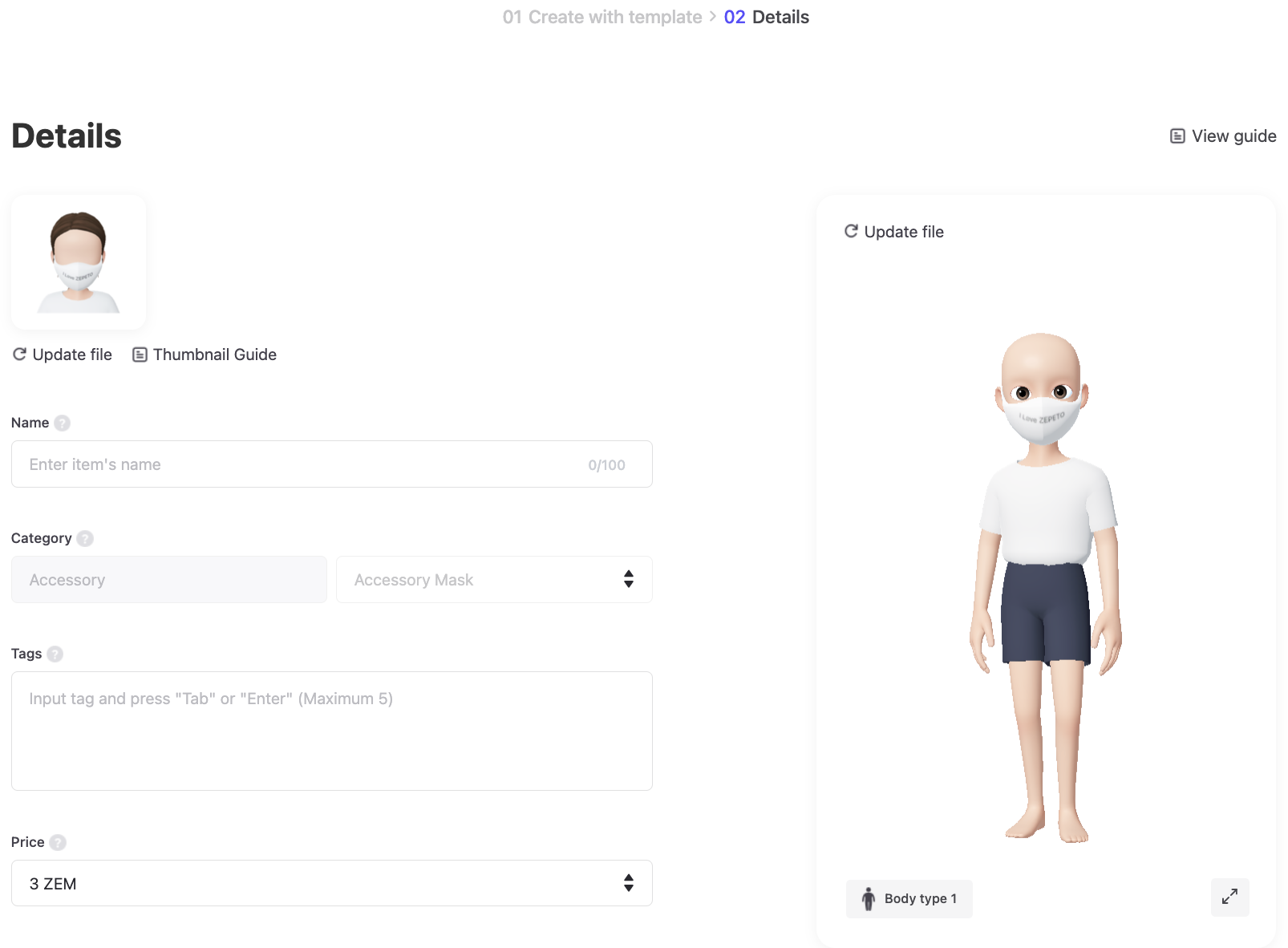 To edit the automatic thumbnail or to make your own, please refer to the thumbnails of official ZEPETO items.
If the submitted item was rejected during screening due to a 'violation of thumbnail guidelines', please check if the thumbnail falls under the following examples, modify it, and then resubmit it!
▼ Invalid Item Thumbnail Example
Image
Example
Suggested Modification
An overly touched-up thumbnail

Please use the automatic thumbnail.

Please refer to the thumbnail of the official item.

(Valid item thumbnail example)

E.g. For lens item thumbnails, please make sure not to include anything other than the lens, such as eyebrows, eyelashes, makeup, and make sure that the thumbnail is not overly touched-up.

Thumbnail with logo image in upper left and lower right (items with resources such as effects, animals, robots, etc.)

If you want to include effects, animals, robots, etc. in the item in the thumbnail, please put them in the lower left/upper right so that they do not overlap with creator item icon and ZEPETO official affiliated item icon.

Thumbnail with items/graphics not for sale

Please use the automatic thumbnail or make it so that items/graphics that are not sold are excluded from the thumbnail.

Example 1) Please do not include makeup, lenses, glasses, etc. in the hair item thumbnail.

Example 2) Gloves and jewelry item thumbnails should be displayed in basic clothes.

Example 3) Do not add unnecessary backgrounds or effects to the thumbnail.
A more detailed thumbnail guideline can be found here.
Please note that item thumbnails that do not meet the guidelines may be rejected during the screening!