Apply for profits through Payoneer and receieve your earning faster.
Starting June 2022, Payoneer will be added as a payment method for studio profits. Also, Paypal will end support subsequently, so please remember this when applying for next payment.
| | |
| --- | --- |
| Types | Description |
| If there is an existing PayPal history that overlaps | Request for payment can only be applied through Payoneer starting from October 2022 application (paid in November 2022). |
| If there is no PayPal link history (if you apply for the first time) | Request for payment can only be applied through Payoneer starting from June 2022 application (paid in August 2022). |
*Does not apply to users of Korean residence who'll be receiving payments through Korean bank accounts.
Register Payment Method for Payoneer
Click the [Payment Info] tab on the [Settings] menu within the studio site.
Link your Payoneer account in [Payment Method] below the [Payment Info].

If you don't have a Payoneer account, you must sign up for a membership at Payoneer first. After signing up and your account has been approved, then you can use your Payoneer account as the payment method.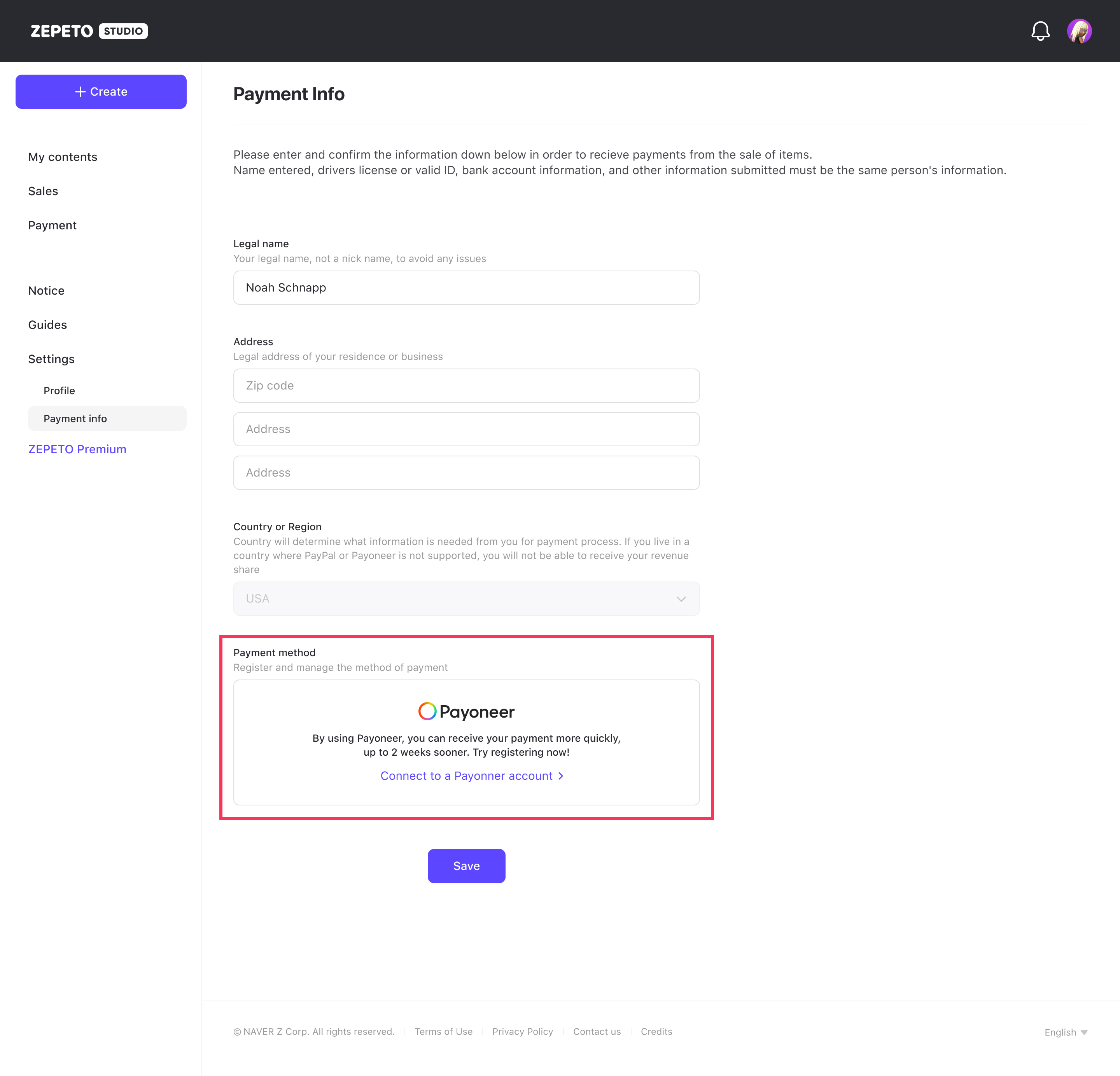 Please note!
When receiving proceeds through Payoneer, you may be required to have a unique ID and related documents that can prove your identity. Please contact Payoneer customer center for more information.

If you're an existing Creator, you can use both Paypal and Payoneer as methods of payment, only until September, 2022 applications.

When requesting payments, you cannot use Paypal and Payoneer at the same time.

Example: If you are requesting 5,000 ZEMs, you can't request to split them up as 2,500 ZEMs for each Paypal and Payoneer.
Payoneer Withdrawal Fee
When withdrawing payment from Payoneer, there may be additional fee depending on certain conditions. Please refer to the Payoneer Customer Center documentand Blog for the withdrawal fee policies and additional details.
For more information on Payoneer usage and FAQs, open the following file!