* Manager Settings
The host can appoint a manager for an enjoyable and safe live stream environment. We recommend that the host solely focuses on the live stream.
The host can assign up to 6 managers.

The host can only appoint users he/she is following as managers.

The manager can hide a viewer's chat or remove a viewer from the live stream.

The host can remove the manager at any time.

The manager will roll over from the previous live stream unless the host removes the manager.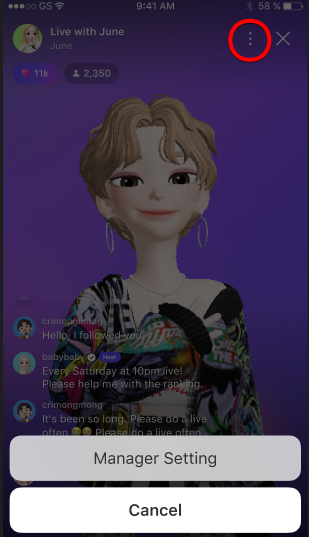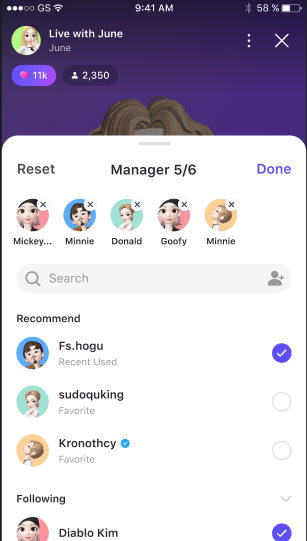 * Reporting a Host or Viewer
To report a user, go to the user profile, [...] on the right, then [Report] and share details.
The host and manager have the ability to hide a viewer's chat or remove a viewer.
Report : Report a user for inappropriate or offensive behavior
Hide Chat : Hide the chats sent by the specific viewer
Remove User: Remove and block the specific viewer
* Reporting Chats
Press chat bubble to report inappropriate chats.
Also, click the writer's profile and press the [...] - [Report] button to report users.
<Reporting Users> Guideline
Manager privileges are granted for smooth live streaming process and to promote healthy streaming environment.
Please refrain from abusing this authority and indiscriminately reporting users.
We will review all reports, and take action according to the Terms of Use and Community Guidelines.